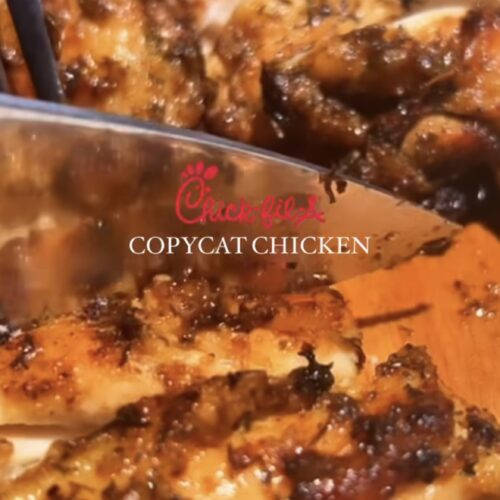 Chick Fil A Copycat Chicken
Looking for a healthier and quicker way to enjoy your favorite Chick-fil-A chicken sandwich? Try this air fryer recipe that uses pickle juice to brine the chicken, resulting in moist, juicy, and flavorful meat. Plus, it's lower in fat and sodium than the original!
This recipe is perfect for busy weeknights, as it only takes a few minutes to prepare and cook. Simply brine the chicken breasts in pickle juice for 20-30 minutes, then coat them in a seasoned mixture and air fry until golden brown and cooked through.
Serve your air fryer chicken sandwiches over greens, on toasted buns with your favorite toppings, such as lettuce, tomato, dill pickle chips, and honey mustard sauce. Enjoy!
Ingredients
1

lb

Boneless Skinless Chicken Thighs

1

Jar

Pickle Juice

1

tbsp

Garlic Powder

1

tbsp

Onion Powder

1

tbsp

Chili Powder

1

tsp

Sea Salt + Pepper

1

tbsp

Avocado Oil

Use Oil or Spray Oil, I like spray
Instructions
Pat and dry raw chicken thighs

1 lb Boneless Skinless Chicken Thighs

Insert chicken into a bowl with pickle juice and let sit at room temp for 20-30 minutes up to 4 hours.

Remove chicken and place in seasoning mixture

1 tbsp Garlic Powder,

1 tbsp Onion Powder,

1 tbsp Chili Powder,

1 tsp Sea Salt + Pepper

Lay flat and place seasoned chicken thighs in the air fryer and spray with avocado oil

Place in air fryer at 390 for 18-20 minutes, flipping halfway through

Remove, slice and enjoy! Serve over greens, in a salad or have it on it's own.
Notes
For the best flavor and juiciness, brine the chicken for at least 20 minutes, or up to overnight. If you don't have pickle juice, you can make your own by combining 1 cup of water with 1/4 cup of vinegar, 1 tablespoon of sugar, and 1 teaspoon of salt. Serve your air fryer chicken sandwiches on whole grain buns with your favorite healthy toppings, such as grilled vegetables, avocado, or hummus.