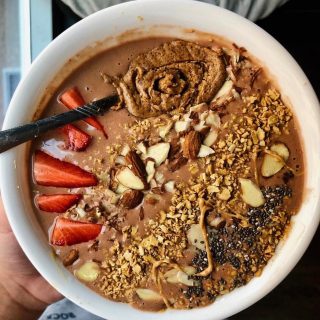 Cold Brew Smoothie Bowl
Start your day off right with a delicious and nutritious cold brew smoothie bowl! This bowl is packed with protein, healthy fats, and caffeine to give you the energy you need to power through your morning. It's also super easy to make, so you can whip it up in minutes.
To make the smoothie bowl, simply combine cold brew coffee, frozen bananas, collagen powder, and peanut butter in a blender and blend until smooth. Pour the smoothie into a bowl and top with your favorite toppings, such as granola, nuts, seeds, or fresh fruit.
This smoothie bowl is packed with nutrients that are beneficial for your overall health. Cold brew coffee is a good source of antioxidants and caffeine, which can help to improve alertness and cognitive function. Frozen bananas are a good source of potassium, vitamin C, and fiber. Collagen powder is a good source of protein, which can help to build and repair muscle tissue. Peanut butter is a good source of healthy fat to stabilize energy and absorb nutrients.
This smoothie bowl is also a great way to get your daily dose of coffee with a sweet and creamy kick. The frozen bananas add sweetness and creaminess to the smoothie, and they are also a good source of vitamins, minerals, and fiber.
So next time you're looking for a quick and healthy breakfast or snack, try this cold brew smoothie bowl! It's a delicious and nutritious way to start your day or refuel after a workout.
Ingredients
1/2

c

Cold Brew Unsweetened

1

scoop

Chocolate Collagen Protein

I use Vital Proteins

1

Frozen Banana

Frozen

1/4c

c

Greek Yogurt Unsweetened Plain

optional for extra protein
Toppings, granola, nut butter, sliced almonds, hemp seeds, chia seeds, berries, flax seeds etc.
Instructions
Pour cold brew + collagen into a blender, then add your frozen banana and greek yogurt. Blend until reached desired consistency, if you like it thinner add more cold brew.

Pour into a bowl or glass top with peanut butter, fresh fruit, seeds + whatever you like!