Mediterranean Beef Keftas
One of the biggest unlocks to eating healthy is finding different ways to prepare food that you know you already like. Cooking the same thing. Time and time again will eventually give you the ick & you'll lose out on nutrition from a variety of different foods. so if you know you like ground beef but want to try a new way of making it with more flavor + more nutrition this is how you start.
• add in new seasonings, go for blends or look in the bulk section
• add in fresh herbs, these make the biggest difference in taste & provide vitamins & minerals
• add in a variety of flavors, textures & combinations
• add in fresh citrus from le + limes for bright flavor & an extra boost of vitamin C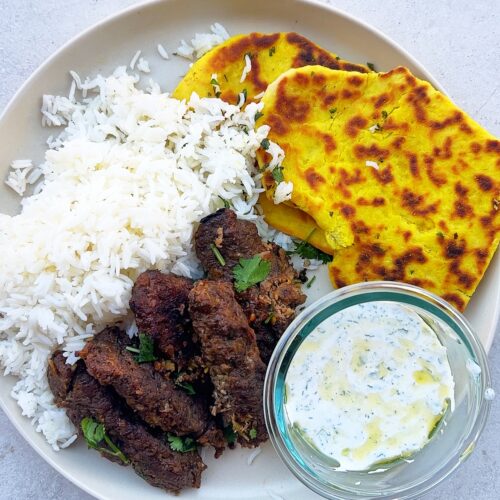 Mediterranean Beef Keftas
This recipe reimagines traditional kefta with a focus on nutrient-dense ingredients, making it a new way to indulge in a healthy dinner that nourishes your body while satisfying your taste buds. The ground beef is lean, ensuring a lower fat content without compromising flavor. Pistachios, a rich source of healthy fats, add a delightful crunch and nutty richness. Garlic and onion, known for their immune-boosting properties, infuse the kefta with an aromatic depth. Herbs like oregano, parsley, and mint, packed with antioxidants, give a touch of freshness and complexity. You have got to try this new way of making ground beef for your next healthy homemade dinner.
Equipment
1 Food Processor

can use a blender or finely chop ingredients if you don't have a food processor.

1 Cast Iron Pan

or baking sheet
Ingredients
Mediterranean Beef Keftas
1

lb

Lean Ground Beef

1/2

c

Pistachios

1/2

Red Onion

4-5

cloves

Garlic

1

bunch

Parsley

1

tsp

Sea Salt + Pepper

1

tbsp

Chili Powder

1

tbsp

Paprika

1

tbsp

Oregano
Instructions
Roughly chop onion, garlic and herbs

Place pistachios, onion, garlic, parsley, salt, pepper, chili powder, paprika and oregano into a food processor and blend until thoroughly mixed

Add mixture into a bowl with ground beef. Mix until fully incorporated

Cover with plastic and store in fridge for 30 minutes - hours

Remove from fridge and create logs with kefta, option to use sticks

Place formed kefta logs into a cast iron pan or baking sheet

Roast for 20 minutes, flipping halfway through.

Remove and top with fresh herbs, fresh lemon & serve with rice, naan bread, greens, and mint yogurt sauce.
Video
Notes
Pair with Mediterranean sides: Enhance the Mediterranean flavors by pairing your kefta with traditional Mediterranean accompaniments like hummus, yogurt sauce, tzatziki, tabbouleh, or grilled vegetables.
Create a Mediterranean platter: For a delightful appetizer or light meal, arrange kefta on a platter alongside other Mediterranean favorites like olives, feta cheese, dolmas, and fresh pita bread.
Infuse with additional spices: Explore different spice combinations to add unique flavors to your kefta. A pinch of paprika adds a touch of smokiness, while a hint of nutmeg imparts a subtle warmth.
Spicy Kefta: Elevate the heat level by adding a pinch of cayenne pepper or a touch of red pepper flakes to the spice mixture.
Herb-Infused Kefta: Enhance the herbaceous notes by increasing the amount of fresh mint and parsley or incorporating additional herbs like thyme or rosemary.
Vegetable-Packed Kefta: Add finely chopped vegetables like carrots, zucchini, or bell peppers to the meat mixture for extra texture and nutrition.
Lamb Kefta: Substitute ground lamb for ground beef for a richer, more intense flavor profile.