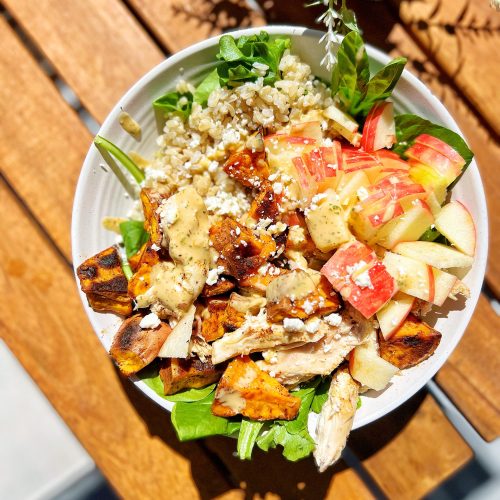 Fall Harvest Bowl
This copycat sweetgreen bowl has all the elements of fall and nutrition combined. The best part is you can make it super simple by using prepped ingredients and dressing. All you have to do is assemble. This bowl is great because it has a balance of carbohydrates, protein, fat and loads of fiber! Enjoy this seasonal bowl and customize how you like it.
Ingredients
1/2

c

Brown Rice

I like using easy frozen microwave rice from trader joes

1/2

c

Roasted Sweet Potatoes

1

c

Mixed Greens

1/4

Sliced Honeycrisp Apple

1

Sprikle

Feta or Goat Cheese

6

oz

Shredded Rotisserie Chicken

1

tbsp

Spicy Cashew Salad Dressing

I get the premade one from trader joes
Instructions
Prep the sweet potatoes ahead - roast at 415 in the oven for 35 minutes or until crispy. Season with sea salt, cinnamon, chili powder and garlic.

Assemble all of the ingredients in the bowl and top with dressing. Enjoy!