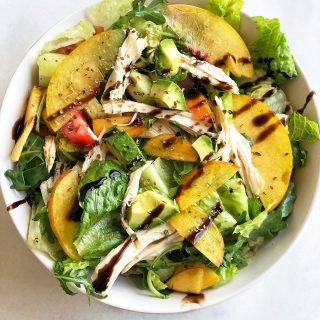 GLOWING SALAD
I created this "glow from within salad" because my body was craving something nourished and FRESH after a weekend out with friends. I love this salad because it is seasonal but also can be customized any time of the year. It is filled with the freshest ingredients to keep you feeling light and fresh.
Ingredients
Arugula

Chopped romaine lettuce

Chopped tomatoes

Chopped cucumbers

Sliced Peaches

Diced avocado

Rotisserie chicken
Dressing
Extra virgin olive oil

Fresh lemon

Drizzle of balsamic vinegar

top with sea salt, dried oregano and red chili flake for optional spice
Instructions
Mix all the ingredients together in a bowl and top with simple dressing, enjoy!