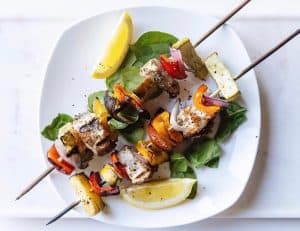 Grilled Chicken Skewers
Ingredients
1

Organic Boneless Chicken Breast

3

Mixed Organic Bell Peppers

1

Zucchini

1

Red Onion

1

Fresh Lemon
Instructions
1. Start by soaking skewers in a pan with water for 30 min. (This assures that the grill won't burn them when you are cooking.

2. Slide chicken, veggies, onions on and season with paprika, garlic salt, black ground pepper, and cayenne if you like it spicy. Drizzle a bit of olive oil, or avocado oil before placing on the grill

3. Place on the grill and flip halfway, cooking for about 20 min.

4. Squeeze fresh lemon & enjoy!