Margherita Pizza Tostada:
As a kid, I loved pizza, but only wanted the thin crunchy crust, as i learned how to build my own pizzas I realized I didn't want to spend time tossing my own dough and wanted something lighter, so I used a tortilla instead. I came up with this recipe for margherita pizza tostadas, and they're quick, easy to make, and delicious.
I love making margherita pizza tostadas because they're a fun and unique way to serve pizza. The tortillas are crispy and the toppings are fresh and flavorful. They're also a great way to satisfy my pizza cravings without having to order takeout. They are also a great easy appetizer you can customize to your liking.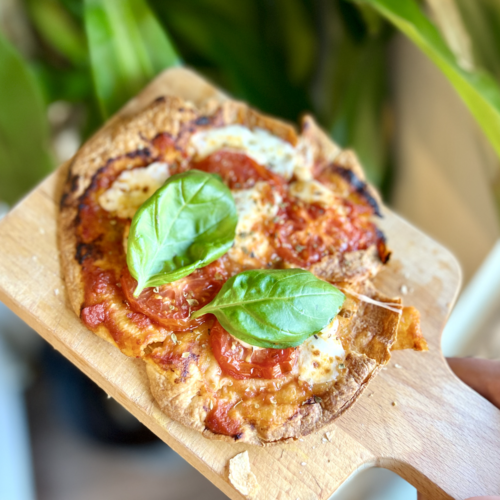 Margherita Pizza Tostada
Quick and Easy Margherita Pizza Tostadas: A Delicious and Unique Twist on a Classic
Do you love pizza, tacos and quick recipes? I've got the perfect thing for you! Try these margherita pizza tostadas! They're made with fresh tomatoes, mozzarella cheese, and basil, and they're baked on crispy tortillas.
These tostadas are perfect for a weeknight meal or a casual get-together. They're also a great option for kids. Use your favorite classic tortilla, or try an almond flour tortilla for a lower carb option.
Ingredients
1

Tortilla

use any kind

1

heaping spoonful

Tomato Sauce

I love Rao's tomato basil sauce

1

sliced

Campari Tomato

can use roma or san marzano tomatoes

3

oz

Sliced Fresh Mozzarella Cheese

1

bunch

Fresh Basil Leaves

1

drizzle

Extra Virgin Olive Oil

1

sprinkle

Dried Oregano
Instructions
Spread tomato sauce on tortilla, then add tomatoes and mozzarella cheese

Air fry at 375 for 6-10 minutes or until crispy if baking in the oven preheat to 400 and bake for 10 minutes until cheese is melted and edges are crispy

Remove from heat, garnish with olive oil, fresh basil and dried oregano

Cut and serve! Enjoy this easy crispy pizza tostada
Notes
Ingredients: You can use any type of tortilla that you like, such as corn tortillas, flour tortillas, or whole-wheat tortillas.
Toppings: In addition to the classic margherita pizza toppings of mozzarella cheese, sliced tomatoes, and fresh basil, you can also add other toppings, such as sliced pepperoni, sausage, mushrooms, or onions.
Cooking: If you are baking the tostadas in the oven, preheat the oven to 400 degrees Fahrenheit. Bake the tostadas for 10-12 minutes, or until the cheese is melted and bubbly.
Serving: Serve the tostadas immediately with your favorite dipping sauce, such as marinara sauce, ranch dressing, or blue cheese dressing.
Here are some additional tips for making margherita pizza tostadas:
For a crispier crust, brush the tortillas with olive oil before baking or air frying.
If you are using a lot of toppings, you may need to bake the tostadas for a few minutes longer.
Be careful not to overcook the tostadas, or they will become hard and dry.
If you are making the tostadas ahead of time, store them in an airtight container in the refrigerator for up to 24 hours. To reheat, bake the tostadas in a preheated oven at 375 degrees Fahrenheit for 10-12 minutes, or until the cheese is melted and bubbly.