I am originally from Leawood, KS and every time I am back in town I am always searching for the best fitness studios around, I love group workouts and have made this guide to all of my favorite places!
Core Power Yoga
If you're really looking for a good sweat, and a great vinyasa flow core power is the best in town. The teachers are well-trained and have the greatest energy to share with you upon walking in. This studio offers a "Yoga Sculpt" which is a hot vinyasa flow with weights and cardio. WARNING, it is tough but you will walk out feeling amazing. The other class I take is called "C2" It is a hot vinyasa flow usually with arm balances and advanced postures. If you're not an advanced yogi, they have an easier version of the flow called "C1". All great classes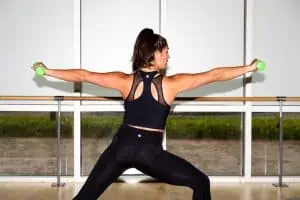 Fusion Fitness
This is the one studio I miss the most when leaving town, their workouts are the most unique and challenging ones I have ever done. They combine cardio, weight training, Tabata training, HIIT and barre elements into their classes. So many classes to choose from at all hours of the day! The music is loud, the energy is great and you will walk out feeling the BURN.
Cyclebar
If spin classes are your thing, this is the place to go in KC. The instructors here are always on point with their music and the rhythm of the ride. 
The Body Lab
This is my favorite reformer pilates in town. They bring it to a whole other level once you step on the reformer. The instructors are detailed in their movements and you will feel your muscles working through each tiny pulse and contraction.